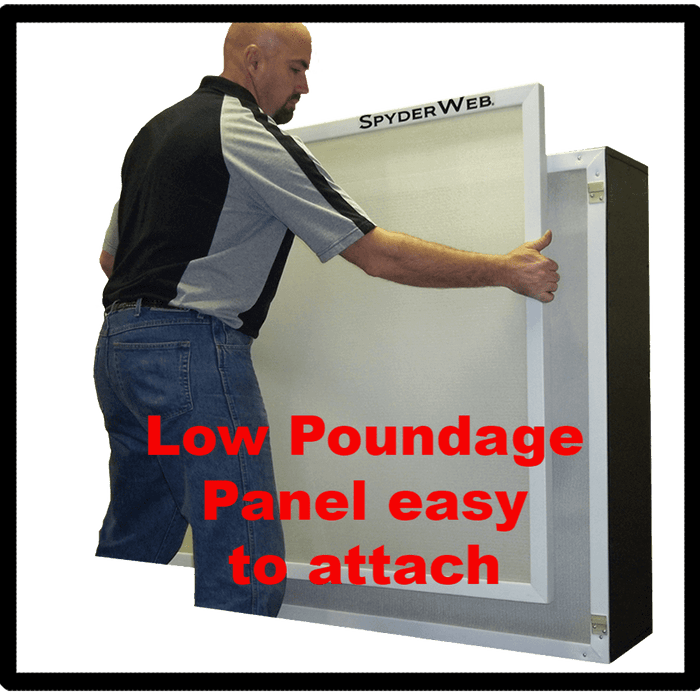 48" Pro Archery Range Targets
by SpyderWeb Targets


48" by 48" by 24" 245 Pounds

Hunter or Pro Model-Which is better for you?  If your shooting includes a great deal of low poundage shooting, then the Pro is a better fit.
1.Warning: Your Range may be more popular than ever before.  Every shooter loves the effortless arrow removal and amazing stopping power of SpyderWeb Targets. Many of our commercial ranges have experienced increases in shooting because of how enjoyable SpyderWeb's Large Archery Range Targets are to shoot. You can verify how enjoyable SpyderWeb's are to shoot by reading ANY of our hundreds of verified reviews.
2.Reduce your maintenance with "Set it and Forget It" design. You don't need to tear your range apart and rotate targets from front to back like other two-sided Foam Block and Bag style Range Targets.  SpyderWeb's multi-layered Spylar faced Range Targets are only shot from one side and yet still last extremely longer than the others. 
3.Could be the Last Range Targets you ever buy. Several SpyderWeb Range customers are still restoring their original range targets dating back to 2007. Repairing instead of replacing them at a fraction of the cost can save you thousands of dollars in the future. 
4.Restore/repair to like new with ease. Extended life panel design enables just one person to repair and restore SpyderWeb Range Targets to like new in a matter of minutes. 
5.Reduce unwanted center target wear with lane divider strap. Discourages shooters from shooting the center of target out.  Strap is easy to take down from time to time in effort to make sure whole target is being shot as equal as possible.  
FAQ'S     

Can it be repaired/rebuilt?
Absolutely, and it can be done initially in a matter of minutes by one person.  We have archery ranges that have been repairing and rebuilding their target for over ten years.  You can be confident that we can walk you thru how to repair the target for years.    
How long before it needs to be repaired?
Incredible average of 2 ½ years before repairing Extended Life Panel.  Our research suggests that an average 750-1000 shooting session before repairing.  Also, stop being annoyed by having a minimum of 2 people rotate your 2-sided range targets half way thru their life.  Shoot more and work less!!
Guarantee
30 Day Money Back Guarantee: If you are not 100% satisfied, you can return your target for a refund, no questions asked. 
Free Shipping
Shipping Terms:
All Shipments to US Lower 48 States
Free Shipping to a Commercial Address 
$50.00 Shipping to Residential Address
$50.00 Lift Gate Fee to Commercial Address
$100.00 Lift Gate and Shipping to Residential Address